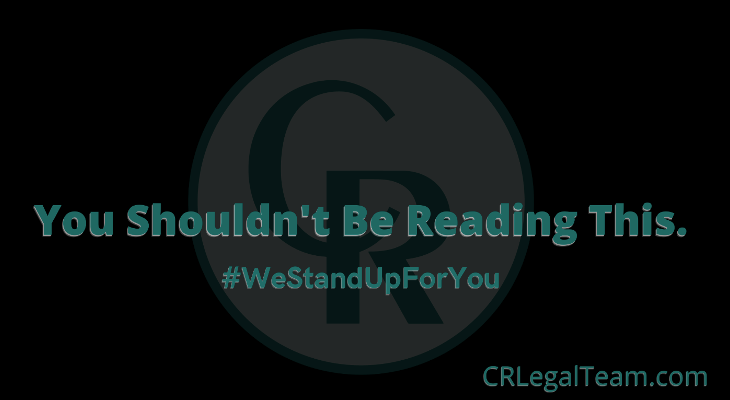 Our Commitment to a Safer Community
CR Legal Team Stands Up For You
You may have seen our 'You Shouldn't Be Reading This' billboard on the road. The CR Legal Team is not only passionate about our clients, but we are also passionate about making our communities better places to live, work, and play. Distracted driving can take your life in an instant, and we believe in the importance of keeping your eyes on the road.
Distracted driving is any activity that diverts attention from driving, including talking or texting on one's phone, eating and drinking, talking to people in one's vehicle, fiddling with one's stereo, entertainment, or navigation system — anything that takes a driver's attention away from the task of safe driving.
Texting is the most alarming distraction. Sending or reading a text takes a driver's eyes off the road for five seconds. At 55 mph, that is like driving the length of an entire football field with one's eyes closed.
Individuals cannot drive safely unless the task of driving has each of their full attention. Any non-driving activity a driver engages in is a potential distraction and increases his or her risk of crashing. The CR Legal Team is here 24/7 to help you understand and use your legal options.
Have you or a loved one been collided by and injured by a Distracted Driver?
If so, call 1-800-288-1LAW.
Drivers are engaging in distracted behaviors on a constant basis:
660,000 of drivers are using their cell phones while operating a vehicle at any moment in the day.
A Texas A&M study suggests that distracted driving occurs more on roadways with wider shoulders and more medians.
Florida had over 56,000 distracted driving crashes in 2021.
There are two distracted driving accidents every hour in South Carolina.
Maryland had over 86,000 distracted driving injury crashes between 2016 and 2020.
74.3% of Californians believe texting or talking is their biggest traffic safety concern.
Three types of distractions:
Traffic safety experts classify distractions into three main types: Manual, Visual and Cognitive.
Manual distractions are those where you move your hands from the wheel.
Visual distractions are those where you focus your eyes away from the road.
A cognitive distraction is when you're mind wanders away from the task of driving.
Texting involves all three types of distraction.
Our friendly legal professionals can help you by:
Investigating your Distracted Driver Injury case.
Filing a Motor Vehicle Accident case.
Ensuring that the suffering and expenses of a Distracted Driver Injury case are addressed and fixed.
Experienced Attorneys Who Care
If you or someone in your family was injured by a Distracted Driver, call CR Legal Team today. We serve clients nationwide, so you do not have to live anywhere specific to receive our help. We are proud to help accident victims and their families.
When working on your case, we will:
Explain all of your options.
Genuinely care for your needs.
We're All Traveling the Same Road – Let's Move Forward Together
You are not alone. If you or a loved one has been injured in a Distracted Driver Attention accident, then please call our offices at 1-800-288-1LAW.