Car accidents are a leading cause of injury and death in the U.S. While these wrecks may have many potential causes of their own, the unfortunate truth is that most result from the negligence of drivers, including motorists who drive under the influence of alcohol or drugs.
Because all motorists have a legal duty to operate their vehicles safely and because driving under the influence/driving while intoxicated (DUI/DWI) is a clear failure to uphold that duty, victims injured in car accidents caused by drunk or drugged drivers have the right to seek justice and compensation for their losses by pursuing a personal injury case. Our legal team at CR Legal Team is well-aware, however, that many of the victims who come to us following these wrecks in North and South Carolina are often unfamiliar with how personal injury law works and with what they can expect when it comes to asserting their rights and navigating the process. To help you gain a better understanding of drunk driving accident cases, personal injury lawsuits, and your rights as a victim, we've put together the information below:
Criminal Cases vs. Civil Cases – Driving while intoxicated is a crime in both North and South Carolina, which means motorists who cause accidents while impaired can face criminal charges (such as a felony DUI). It is important for victims to understand that any criminal case against a driver who caused their wreck is handled in the criminal justice system, which focuses on whether a defendant is guilty of a crime and on what penalties they are to face. These criminal cases are not a viable source of compensation for injured victims. Instead, victims will need to pursue compensation for their losses by pursuing a personal injury lawsuit in the civil justice system, which focuses on whether or not a defendant is financially responsible for their injuries and losses. Civil personal injury lawsuits also use a lower burden of proof than what is used in criminal cases (beyond a reasonable doubt), which means a driver can still be held liable for an accident and resulting damages even if he or she is never charged with a crime or if he or she is found not guilty in criminal court.
Proving Liability – Proving liability, rather than a driver's guilt for violating a law, will be the focus of any personal injury case arising from a drunk driving accident. While facts and circumstances are always unique, proving liability generally requires victims to show that a motorist failed to meet his or her "duty of care" or legal obligation to operate the vehicle safely, that his or her negligence and wrongful conduct more than likely resulted in the crash and its resulting damages, and that he or she now owes the victim.
Recovering Damages – Victims who suffer injuries in drunk driving accidents can face a range of setbacks and losses. By filing a personal injury lawsuit with the help of experienced lawyers, victims can hold at-fault drivers responsible for a range of economic and non-economic damages they have sustained as a result of the accident and their injuries. These may include compensation for their pain and suffering, for medical bills and any future medical needs, for lost wages or lost future earnings, for mental anguish and emotional suffering, and more. Ensuring that victims fully account for all damages they have suffered is critical to recovering the full and fair compensation they need to cover expenses and rebuild their lives.
Compensation Is Not Guaranteed – While there are legal pathways through which victims can recover financial compensation for their losses, it must be said that compensation is never guaranteed, nor is it guaranteed that victims will be treated fairly or offered fair compensation that meets their needs. This is due in large part to the fact that insurance companies care more about profits than people and often utilize extensive resources to dispute claims, to deny fault and liability, and to pay victims as little as they possibly can when handling claims on behalf of their policy holders.
Experienced Attorneys Can Help – Because victims depend on full and fair compensation to cover their losses and because they can face challenges created by corporate defendants and insurance companies that want to minimize payouts, working with skilled legal representation can make all the difference. At CR Legal Team , our car accident attorneys leverage decades of collective experience and resources to guide victims step-by-step through the personal injury process, to educate them about their rights, and to handle the challenging investigatory and legal work on the behalf of the victims. By working with proven lawyers like those on our team, victims can level the playing field with insurance companies and corporate defendants and can ensure they take the right steps to seek the maximum recovery possible.
CR Legal Team knows victims and families can suffer in profound ways following drunk driving accidents and is committed to helping our clients protect their rights and fight for the compensation they deserve. If you have questions about a drunk driving accident or any type of preventable car wreck in North or South Carolina, our firm is available 24/7 to review your case and discuss whether we may be able to help you through the legal journey ahead. Contact us to request a free case evaluation.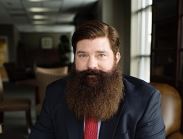 R. Jimmy Brittain Jr. is our team's pre-litigation attorney. He graduated with his Juris Doctor from Campbell University School of Law. He represents those who have been injured from others' negligence.