After a winter that more than wore out its welcome, folks in the Carolinas are now enjoying warmer temperatures that make you wonder if we've jumped right into the heart of summer. These warm, sunny days beckon us outdoors to enjoy the beautiful NC landscape - making it prime time for motorcyclists to head out on the highway.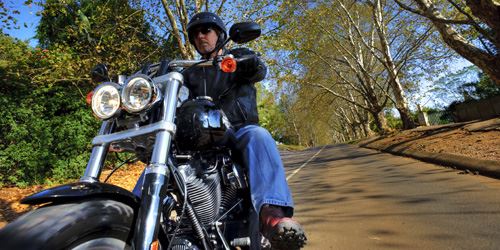 If you've been on the roads lately, you can't miss the increased number of motorcycles. Every rider is eager to get back out onto the road after many months of idle engines. Unfortunately, this also means an increase in motorcycle accidents. The past few weeks have seen a dramatic increase in motorcycle accidents in North Carolina. These accidents often cause serious or even fatal injuries due to the exposed nature of riding a motorcycle. Specifically, the risk of traumatic brain injury and paralysis is significantly higher for motorcyclists than drivers of traditional vehicles.
Vehicle drivers: be aware of your surroundings and responsibly share the road with motorcyclists you encounter. Sharing the road is a conscious choice and you must proactively look for motorcycles on the road, especially when changing lanes or at intersections. Drivers often find it tricky to judge the speed at which a motorcycle is approaching, so you should allow extra traveling distance and avoid pulling out in front of motorcycles.
Motorcyclists: increase your visibility by avoiding blind spots and wearing bright colored protective gear. Smart and safe riding goes a long way toward preventing accidents. Try not to share the lane with other motorcycles, and always approach other motorists at a safe speed and with enough distance to allow you to react to other vehicles. Constantly look ahead down the road to identify cars or other hazards that might become a problem. Every rider knows the feeling you get when a car is waiting to pull out across your path. Your attention increases, pupils dilate, your fingers grip a little tighter on the brakes, and you are ready in a flash to take evasive action if the driver pulls out. Someone told me a long time ago, when you're riding, assume that no other cars on the road can see you. That way you'll make it back home safe, ready to go next time.
Sharing the road is a shared responsibility, but with safe driving/riding, vehicle drivers and motorcyclists can help reduce the number of motorcycle accidents this season.
For more information, check out our Motorcycle Accident Resources.
Dré Fleury is the Personal Injury Practice Group Leader at CR Legal Team . He leads a team of personal injury attorneys throughout the state who have represented numerous motorcycle accident victims and have witnessed how injuries sustained in a motorcycle accident can suddenly and dramatically change a life.
Free Initial Consultation