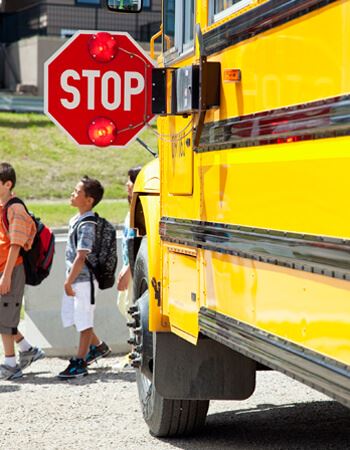 It's back to school season, and families everywhere are scrambling to get school supplies, new tennis shoes and textbooks. Students are re-charging their brains; memorizing locker combinations and class schedules. It's a perfect time to remember one often overlooked consideration – safety. During the summer months, drivers get out of the habit of sharing the road with school buses, bicycles and pedestrians in the same way they must during the school year. Here are a few tips to make this back to school season a safe one.

Your morning commute
Allow yourself extra time (10-15 minutes) for your morning commute, especially during the first few weeks of school.
Drive cell phone free! Texting while driving is illegal, and driving completely cell phone free is the best practice. If you must talk on the phone, use a hands-free device.
Kick distractions to the curb. Drink your coffee and apply your make up before you leave - safe driving requires 100% of our attention.
In your neighborhood
Pay careful attention to children waiting for school buses in the morning. Children sometimes dart into the road at the bus stop, and get excited easily. After school, children run in all directions from the bus stop, so be alert.
Observe all traffic signs and speed limits.
Do not block crosswalks.
Slow down around people or bicycles. You should always be able to stop quickly if needed.
Around school buses
It is illegal to pass a stopped school bus stopped for passengers - so don't do it. School buses are not treated the same as city buses and other municipal transportation. For instructions for different types of roadways, visit NC Bus Safety: http://www.ncbussafety.org/SchoolBusSafety/SBSWlaw.html
Pay attention to bus signs and lights. Flashing red lights and an extended stop sign arm indicate that a school bus is stopped to load or unload children.
Be prepared to slow down when you see flashing yellow lights - this alerts you when a school bus is preparing to stop to load or unload children.
Every year we receive calls from folks who have lost a child, or had a child severely injured from collisions right next to stopped school buses. Let's make that a thing of the past.
In a school zone
Observe school zone speed limits.
Yield the right-of-way to pedestrians crossing the roadway.
Obey directions from school patrol officers/crossing guards or any posted signs.
Most importantly, be alert! As a driver, it is your responsibility to be aware of your surroundings. Cautious and careful driving can save a life!
Dré Fleury is the Personal Injury Practice Group Leader at CR Legal Team . He and his wife Grace have three children and live in Charlotte, N.C.
Free Initial Consultation